How to Buy Vinyl Fencing for Cottage Gardens
Vinyl fencing is easy to maintain and install.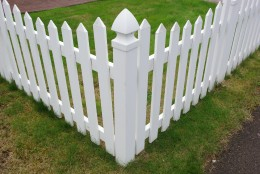 Protect your investment
Vinyl fencing material continues to take the fencing industry by storm! Vinyl fences do not require any type of maintenance other than washing them down with water. Once installed, there is little you will need to do to protect your fencing investment. Count on paying to have it installed, but that should be the end of any financial commitment for your cottage fencing. When you purchase a vinyl fence, you will still want to make sure that you get a guarantee. The guarantee will protect your investment in case any damage happens to the fence for the life of it, and if damage does occur it will be taken care of free of charge.
You do not need to color the fence in any way. The material will come in the color you want. The color goes through the material so even if it is scratched, the color stays true.

Limited color selections
There is a negative aspect to vinyl fencing. There is only a small color palette available for purchse. With the growing popularity of vinyl fencing it is only a matter of time before a wider variety of colors will become available.

Vinyl density
There are some things that need to be kept in mind when you are considering buying vinyl fencing. Know the density of the material that is being used. If the fence lacks density then it's not of good quality. It may not cost as much, but it will not last either, and you run the risk of it breaking easily.
When you purchase vinyl fencing that has some thickness to it, you won't need to worry as much about damage. You'll only be able to get this by paying a bit more for it. However, paying a little more now can save you a lot of money in the future.

No limit to styles
There are no limits to the vinyl fencing styles you can purchase for your cottage garden. You may not want to have anything that is too fancy, but would still like your fence to look nice. Or you might want a tall seclusion fence to enhance your privacy. Luckily, you can meet any of these needs with vinyl fencing.

Professional installation required
Vinyl fencing does require professional installation. If you have never installed a vinyl fence before then you should leave it to someone who has. You can get your fence installed by the same people who sold you the materials. When you get an estimate make sure you ask for the cost of installation to be included.

Installation timing
Installing a vinyl fence will not require a good deal of time to complete. It can often be done over a very short period of time. After that, you should be able to maintain it on your own. On the rare occasion that something should happen to the fencing, you can cash in on the guarantee and have the original installer fix it free of charge.

Vinyl fencing for cottage gardens is one of the hottest trends in the fencing industry. They're maintenance free. There is nothing to maintain when it comes to vinyl fencing. The only thing you will have to pay for is installation. Once that is done, there is nothing left to do. Most of the companies that sell vinyl fencing offer a warranty for the life of the fence. This means that if any thing goes wrong with your vinyl cottage fence, you're covered!
---
About the Author: Sam Lewis writes about gardens, vinyl fencing and garden fencing on Hubpages.
Article Source: http://hubpages.com/hub/Garden-Fence


---