Tips for Buying Outdoor Garden Furniture
Details to consider along with the price of garden furniture.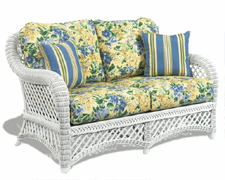 Take a closer look.
Choosing outdoor garden furniture could entail many different things. Before you decide on the right table, chairs, and equipment, take a closer look at the details. Here are five areas you might want consider before you buy your outdoor garden furniture.

Price of garden furniture
The best looking and most comfortable seats and chairs will not be any good to you, if you cannot afford to buy them. When you shop, always consider the price. If you are shopping online, most sites will let you browse the selections by price. This is a good way to make sure that you stay within your budget.
Will the garden furniture be comfortable?
Comfort is extremely important when selecting and buying outdoor furniture for your cottage garden. Seats should be comfortable and provide support, but you also need to consider the size of your family and friends. Check the dimensions of the chairs, benches, couches and loveseats you are considering to buy. Your family and guests' legs need to have adequate space under the table while sitting at the table. Take time to consider the arm rests on the chairs too. Do they appear to be comfortable?

Where and how you will use your garden furniture
It's important to know where and how you'll be using your new outdoor garden furniture and any outdoor grilling or heating equipment. Is it something to lounge at near a pool or garden pond? Maybe it's for enjoying time together on the patio. Will it be used occasionally or do you plan to spend many evenings and weekends there? Do you have a lot of cookouts and company? All of these things will determine what you should look for.
Cookouts and picnic tables
If you have a lot of cookouts, then you may wish to invest in some picnic tables. These are very good for eating outside. You can seat a lot of people at each table. If there are many small guests like children, it is a good idea to have a small table for those guests. It will be more comfortable for the kids and your adult guests will appreciate it also. Look for smaller tables that match your larger ones. This will give a more uniform look to your eating area.

Materials
Consider the type of material that you want for your cottage garden furniture. It's important for it to be completely weather-proof. Some types of wood may work well, but you may need to treat them frequently. Plastic may not be as durable and heavy as you like, although that is not always the case.

Make sure that you consider the weather, too. If you get frequent high winds, you might want to go for heavier items. It may be best not to use a glass top table too.

Outdoor cottage garden furniture design
Design may not seem as important as other features, yet aesthetics is always an important consideration. It will be a reflection on you as the owner. If it looks cheap and thrown together, people may think the same about you.

When you shop for outdoor garden furniture, you should always consider the price. Do not spend time dreaming about things that you cannot afford. This may only lead to frustration. Look for items that will provide the most comfort. Consider what type of use things will receive, also. Your materials should match you needs, too. For example, lightweight plastic and glass tabletops may not fare well in windy and stormy conditions. Design is also important. Remember, your furnishings will be a reflection on you.


---
About the Author: Gabriel Meriwether writes about patio furniture and patio dining sets and provides valuable information about purdhasing resin wicker patio furniture.
Article Source: Gabriel Meriwether

---
Top images courtesy of Woodard Furniture