How to Use Stream Rocks to Create a Garden Pathway
Create a Solid and Yet Peaceful Pathway Designed for Heavier Foot Traffic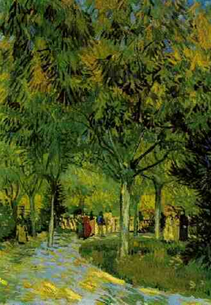 Stream rocks create a solid yet peaceful and contemplative effect for you and your garden visitors. If you experience medium to high traffic through your garden, then stream rocks can sustain that foot traffic. Stream rocks are also aesthetically flexible and can be used to make straight and angular causeways, or they can be used to create paths that simulate the winding curves of a small waterway.

Create a path bed six inches deep
The first thing you will need to do to make a stream rock path is to create a ditch at least six inches deep. Once you have created the path bed fill it with the stream rocks you have chosen. This will make a sturdy and well-defined walkway in your garden. Add a metal or wood border to keep your stream rocks in place. Once your pathway is finished you can soften the look of the sharp border by planting groundcover along the edges of the path.
The Fieldstone Option
Fieldstones are an additional option for backyard walkways. They're heavy duty and conveniently shaped for use as stepping stones and will do quite nicely as a garden walkway. Fieldstone is for situations that require a lower impact path, when you want isolated stepping stones rather than a paved corridor through your garden. Fieldstone pathways work well combined with groundcovers to integrate into the garden, while creating a natural look. When set in sand or gravel, fieldstone has a sharper and slicker design feel.

Gravel and water
Gravel is one of the easiest materials to work with when creating a water permeable pathway. Using metal border material is essential when working with gravel. While it's easy to set down a well defined path, gravel won't stay contained unless held in bounds by a border. Gravel is useful if you want to pave an already-established dirt path, or you need your garden walkway to be handicap accessible.


Brick as a path material
Brick is another sturdy and tried-and-true path material. However, it is more challenging to work with than any of the other pathway materials. This is because before the bricks are set, a ditch about six inches deep needs to be dug where the path will be and it needs to be filled with sand. On top of that, each brick needs to be set separately and closely fitted with the other bricks composing the path. However, all this hard work has a big aesthetic and functional payoff. One can create patterns on brick pathways that can't be matched by any other materials. Also, with a little maintenance, brick pathways can easily last a lifetime.
Function and design needs
You don't have to be a professional to make a beautiful and functional garden path. Pay attention to your functional and design needs, and you'll be rewarded with a great design element that also gets you from point A to point B.


---
About the Author: Chris Jenseh is a contributing author of Jetfly Shop
Article Source: ArticlesBase.com -
Photo credits: eHow.co.uk