Basic Supplies to Build Garden Ponds
What you need beyond a shovel and hoe.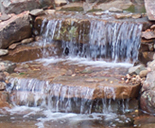 Key items you need to purchase before you begin building your backyard water garden.

Build a pond in no time at all.
It doesn't take a professional to build a backyard water garden. First-time pond owners can build a fish pond or water garden in no time at all with a little patience, some clear instructions and the right pond supplies.

Navigating the possibilities
However, where most people run into trouble is with that third part of the equation: getting the right pond supplies. There are a lot of pieces and parts that go into making a garden water garden. For first-time builders, it can be intimidating to try to purchase all the supplies on their own. There are many options, and navigating the possibilities requires some planning.
Avoid forgetting essential pieces
Avoid making multiple trips to your nearest pond supplies store, because you forgot essential pieces or bought too many of a part you didn't need. However, by doing some research and assembling a pond supplies checklist ahead of time, you can make sure you get just what you need - all in one trip.

Don't get overwhelmed
Making sure you know exactly what you need is the key to not getting overwhelmed when you shop for pond supplies. Some distributors sell pond kits that come with all the supplies you need. Pond kits come in varying sizes, so you can choose one that fits the dimensions you have in mind.
Pond Supplies Checklist
Key items to purchase:
Pond skimmer
Pond pump
EPDM pond liner
Pond liner underlay
PVC hose
Plumbing kit that comes with valve and plumbing connections
Spiral tubing
Water conditioner, start-up and clean-up bacteria
Black foam
Installation manual

Pond kits are best option
Pond kits are often the best option for first-time pond builders. They ensure that you have all the supplies you need, and they come with very detailed installation instructions.

Pond kits are very popular
Pond Kits are very popular with Pondliner.com customers, because they provide you with all the equipment needed to make a beautiful garden pond. The components contained in each water garden kit are perfectly matched to suit the size of the garden pond you want to create. If you are a beginner, Pondliner.com Happy Koi Pond Kits are easy to assemble and built to last. Each water garden kit - whether for a first time pond owner or someone looking to expand an existing pond - comes in a variety of sizes to meet your needs.
---
About the Author: Kelly Nuttall writes on the topic of Home Improvement, Landscaping, and Outdoor Decorating at www.PondLiner.com
Article Source: http://EzineArticles.com/?expert=Kelly_Nuttall


---
Garden Pond Photos courtesy of: Pondliner.com.