Use Fencing to Protect Flower Gardens
Even a small fence will help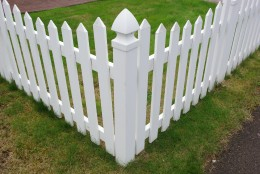 Protect your gardens
Flowers are a great way to decorate your yard and property. Gardens look delightful in many different places and their colors and textures dress up any yard regardless of where they are positioned. Gardnes can easily line the front entrance walk to your home. Protecting delicate plants and flowers in your garden is important and adding a quality garden fence will help you do this.
You can get double the protection with a garden fence by using it in your cottage vegetable garden, if you have one, and for your flower beds that you don't want trampled. As you probably already know, kids can wreak havoc on an unprotected plant. You can offer your garden protection from your kids with a few strategically placed garden fences. Hopefully this will keep "kid trampling" accidents to a minimum.

No need for a huge fence
There is no need for a huge fence for your garden in any part of your yard. You are just looking for a deterrent to keep your flowers protected. If anyone steps on them, they will get crushed and they will also become damaged which will make your flowers look bad as well. By having a fence to protect them, this will not happen to your flowers.
Noticing the fence
People will be able to notice the fence and this will keep them from stepping on your plants even if you use a small fence. Even if it can not be easily seen, the fence will be felt and this way the flowers will be avoided and not crushed. If you have plants close to where people walk, this will keep them from being hurt.

You can choose from many different types of fencing for your garden. This includes what the fences are made out of. Often we carry into adulthood visions and thoughts from stories we've read, or pictures we've seen over the years, of a certain type of fence we want around our home and in our gardens - even a white picket fence! Getting any type of fence is not hard to do. You can make those ideas of living in a house with a cottage garden surrounded by a white picket fence a reality!

For an older look
For an older look consider metal fencing. This material comes in a variety of colors that will go with any home or cottage garden. You can choose from very decorative to a more simple style. Only your imagination will limit your choices of this type of fencing.

If you have problems with wildlife, such as rabbits or deer, you may want to add a taller garden fence to help reduce the damage these animals can do to your garden. Installing these fences isn't difficult, and you can probably do this yourself. There is no need to hire a contractor to do the work. They come in sections that are very easy to install. You can get the fence sections to coordinate with whatever type of cottage garden you have.

Protecting flowers and plants is a concern for those of us who grow them. We spend a lot of our spare time working in our gardens. Consider adding simple and discrete fencing to help keep your garden from being damaged by those who accidentally step on your plants without meaning to. There are many different style to choose from, and one is sure to be right for your cottage garden which will also compliment your home or cottage.
---
About the Author: Sam Lewis writes about gardens and garden fencing on Hubpages.
Article Source: http://hubpages.com/hub/Garden-Fence


---