Featuring Gates in Cottage Gardens
Define different areas of your cottage style garden with fencing and gates.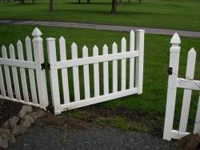 Designing a garden.
When designing a landscaped garden from scratch, much thought is given to plants, the patio and fencing outlining borders of a property. However, less thought is usually devoted to gates or an arch most suited to a garden's needs.

Grand, playful or bold
Gates can say a lot about us, their designs can be grand, as the gates leading into stately homes, or they can be playful or bold. Whatever their design, their main function is to keep either in or out, depending on the your point of view.
Choosing the right gate
If your property is large and your wrought-iron fence proclaims your affluence and status in the neighborhood, you don't want to insert a white plastic gate, no matter how safe it might keep the grandchildren or the dog from running out into the road beyond. Choosing the right gate for your entrance is important, both from an aesthetic and safety point of view.

When safety is a concern
If safety is your main concern, your fencing should be high enough to prevent people climbing over it and you should be able to bolt it or even lock it at night from the inside. This type of gate is best suited for entrances leading to the rear of a property. Front gardens usually have a much lower gate, but if your children are small or you have an adventurous or even assertive dog, your gate should be high enough for your loved ones to stay safely within the area of your front garden.
Wrought iron gates and hedges
Aluminum gates with their wrought iron look can look very imposing when used in combination with established hedges, particularly if the garden is flanked by topiary or if it contains an interesting design using parterres in swirling patterns or laid out as a maze with box hedges. Here the garden gate becomes a feature of the overall design rather than being merely a gateway into your property or a means to keep the dog inside.

Different areas within your design
Within a garden, small parts fenced off to create areas with plants of different types, perhaps a woodland area followed by a formal bedding arrangement, can be very effective. If your garden is long and narrow, you can create an effect of different rooms within a design. These areas can either be fluid, where visitors are led by a winding path from "room to room" or the design can be more formal, with clearly marked boundaries. Here gates can become helpful architectural features within the design.

A different planted area can be defined by the border around it as much as by the plants within it. There might be themes to the idea: a garden design inspired by Asian horticulture might use bamboo fencing and bamboo gates, while a Victorian garden might use metal fencing, arches and gates together with metal seating like wrought iron chairs and tables.

Tall gates as focal points
Using a tall gate as a focal point is a way of recycling a gate that has outlived its usefulness as a protector of home and garden, but has still enough life in it to feature as a windbreak, or as a backdrop for an unusual flower color or blooming plant. You might use an old gate to hide your compost heap or an unsightly part of your garden or simply to indicate that here is where the vegetable plot starts and the pleasure garden ends.

Old gates can still fulfill a variety of uses, not least of which is as a guard laid across a small pond to keep children safe from falling in.

Remember, getting a quality fence for your property will improve its aesthetic appeal, add an extra layer of security, and even raise your property values.
---
About the Author: Raymond Remi Rheault writes about the many uses of aluminum fencing. Raymond recommends Aluminum Fence Depot for any of your aluminum fencing needs.
Article Source: http://EzineArticles.com/?expert=Raymond_Remi_Rheault


---