Cottage Garden Fencing Styles
Great options to enhance cottage garden appearance.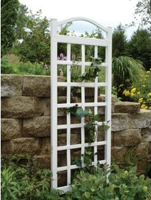 Add the extra touch
Enhance your cottage garden with garden fencing. You've put a lot of work into making your cottage garden a showpiece, so go ahead and show it off a little. There are three great options for adding fence accents to your cottage garden, including a picket fence, vinyl fencing and adding a trellis or two (or three or four!).

Give them a quick peek inside
Picket fencing can vary in height. If you have several flowers that are tall, such as cosmos, delphinium, tulips or black-eyed susans, you might want to use a low picket fence so these flowers can easily be seen. On the other hand, if you have plants and flowers of varying heights, consider installing a three-foot high fence with a gate.
Leave the gate partially open so those walking or driving by can catch a glimpse of your garden. Picket fencing is usually made out of wood that is painted white or vinyl.

Trellis fencing
Trellis fencing is a wonderful garden fencing option if you have plants that spread rapidly or if you have climbing vines. Trellis fencing can be made of wrought iron, wood or even durable plastic. What's fun about trellis fencing is watching what the plants decide to do and how they settle on the trellis because of the criss-cross design. Plants will weave themselves in and out of the openings leaving that one element of garden design totally up to the plants! Place a trellis at the entrance to your garden as a pleasant welcome. Clematis, climbing roses and morning glories are plants which thrive well climbing and weaving themselves on the trellis.

Garden location matters
Depending on the location of your garden, you might only need to fence a portion of it. For example if your garden is between your house and garage, then don't put up fencing by the house or garage, just fence the other two sides. If your garden is out back in an open area, consider giving a unique design to your garden fencing. There's no rule that says you have to fence in a straight line.
Determine a budget
Once you know the purpose for installing garden fencing, determine your costs. Will you be installing the fencing yourself or hiring someone to do it? Itemize all necessary materials. Determine if you'll need to rent any special equipment to help with the installation. If you're hiring someone, be sure to get at least two or three quotes.

Select material and fence style
Wrought iron fencing works well if you're looking for security or want to give your property a nice appearance. Children won't be able to climb the fence. Picket fencing provides a nice appearance as well. Picket fencing lacks privacy and doesn't offer much security. Usually picket fencing ranges in heights of three feet to six feet. The fencing can be made of panels that you attach to posts or actual individual pieces. Picket fences can be topped with round, chisel or square tops.

Fence panels provide privacy
Pre-fabricated fence panels are six feet wide and vary in height. The panels come in several styles and usually are lightweight, so if security is a need, then panel fencing might not be the best option. Close board fencing offers both a high level of security and privacy. Boards are vertically overlapped along the horizontal boards. It would be difficult for an animal or person to climb up and over the fence.

Choosing garden fencing takes some thought and planning. Select fencing that will best meet your needs and your budget. You want something you'll enjoy looking at over time. Once your fencing is installed it will last for several years and provide you with the privacy and/or security that you want.
---
About the Author: Sam Lewis writes about gardens and garden fencing on Hubpages.
Article Source: http://hubpages.com/hub/Garden-Fence


---