The Soothing Sound of Garden Waterfalls
Create a tropical paradise of tranquil water sounds.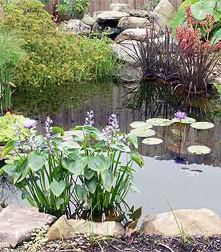 A soothing presence is brought to your cottage garden when waterfalls are added.

Limitless beauty of a pond waterfall
By introducing a garden pond waterfall in your cottage garden both elegance and ambience can be achieved within your overall landscaping. You will love to hear the sound of a cascading waterfall or water streaming via fountains. The soothing background sound of water can ease stress and provide for a secluded escape. There is no greater image than a fully rushing waterfall cascading down into a colorful garden pond. A garden pond waterfall can be installed in most gardens and additional water features like fountains or pond aeration can be easily added. There are limitless possibilities of adding more beauty to a garden pond waterfall by including lilies, lotuses, irises, papyrus, water hyacinth, and water lettuce. Adding Koi fish to your garden pond waterfall will only enhance your back yard experience.
The healing and protecting properties of water
Water's intrinsic healing and protecting properties alone are benefits enough to entice one to create a garden pond waterfall. The notion to create a tropical paradise including tranquil sounds of flowing water is truly therapeutic in itself. There is a soothing presence which is brought to any environment when outdoor waterfalls are implemented. In today's world, eliminating and reducing stress are at the forefront of our times and certainly ponds and waterfalls can help peel off the stress we live daily. Once we are fully relaxed the body is able to rebuild, regenerate and regroup.
Activating your garden pond waterfall
A pump is required to activate your garden pond waterfall which will recycle the water through the pond to keep the water moving and prevent stagnant water. Kits are available including preformed ponds, electric pumps with filter, tubing, fittings, etc. that have gotten very creative and can even resemble rock like structures for an authentic look. Typically you can find both submerged fiberglass and plastic pond structures which will fit your needs. Preformed pond starter kits start out at about $100. The pond liner offers greater flexibility to fit in the ground over its fiberglass counterpart. The fiberglass preformed pond, however, offers greater strength and durability for long use.

Adding fish to a garden pond waterfall
Adding fish to your garden pond waterfall is a great idea, but keep in mind that you'll need to maintain algae and bacteria levels. In addition to having to add chemicals and nutrients to keep your fish healthy, you will also need to keep the water temperature right around 60 degrees Fahrenheit. Improper temperature can often cause havoc to a new owner of Koi fish so hire a professional especially if this is your first approach to creating a garden pond waterfall. Pending cold weather climate in your region, you may also require a heater to keep the water warm in the colder months. In some cases a de-icer may be necessary. Keep in mind that although you have a closed system you still must account for birds of prey (hawks, eagles, etc.) which are exterior to your system. A rock overhand or floating log in the water is recommended so the fish can hide in the shade to adjust for potential predators.
---
About the Author: Tom Franklin is an active pond and waterfall fan from the great state of Michigan. He has been instrumental in pond aeration via the use of fountains. Visit Ponds-and-Waterfalls.
Article Source: ArticlesBase.com


---
Garden Pond Photos courtesy of: http://www.watergarden.org/Pond-Supplies/Pond-Kits