Converting a Garden Pond to a Fish Pond
Conditions you will need to consider.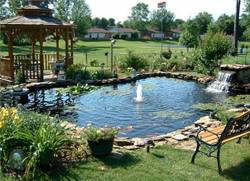 Converting a garden pond.
Some people who already have a garden pond often wonder if it can be turned into a fish pond. The answer is yes! Your existing garden ponds can be converted into a fish pond, and there are only a few changes you need to make. However, there are a number of conditions you'll need to consider before putting fish in an existing pond. These include the size of your pond, the depth, and the other features that are included in it.

Most water garden ponds, when first created, often come with certain features like fountains, waterfalls, and such.
As long as there are no big suction holes or rotating parts where fish might get caught and may cause them harm, then these existing ponds can be converted into fish ponds. A garden pond that is made of fiberglass, wood, or even cement or tiles can all be used for a fish pond - as long as they are prepped for your fish to live in first.

Check the pond depth
When you're considering converting your existing garden pond into a fish pond, one of the things you will need to check is the depth of your existing pond. If the pond is small and shallow, then that means you can only have smaller fish types. If your pond is only around three inches deep, you can still have fish in them, usually gold fish. There are a number of many different types of goldfish you can choose to have in your existing fish ponds and these include the more unusual types like the bubble eye, the lion head, and the ranchu goldfish.
Consider Koi fish
If your existing garden pond is somewhat bigger, then you should consider having koi placed in them. There are also a number of koi that you can choose from and these vary in color and size and can be easily placed in any existing pond you have as long as the water is deeper than three inches. You'll need to consider the size of your existing pond before you place any fish in them or convert them to fish ponds. Fish need ample room to move around in, and overcrowding them in a small pond is not healthy for them nor is it attractive to look at as well.

Condition the water
The water of your newly converted fish pond will need to be conditioned to make it habitable for these little creatures. You'll need to add a water conditioner to your pond to get rid of harmful chemicals that may hurt your fish. You'll also need to get yourself a biological filter to help keep your pond clean and free from dirt that your fish will produce. You might also need to maintain your pond's cleanliness by changing 20 percent of its water at least once a week to help keep the water clean and your fish healthy.


---
About the Author: Richard Cooper writes about converting garden ponds into fish ponds and enjoys seeing fish in them.
Article Source: ArticleBase.com


---
Garden Pond Photos courtesy of: Pondliner.com.